Happy Birthday Elvis Presley!
Elvis Presley was born January 8th, 1935 in a two-room shack built by his father and uncle. The day was joyous and heartbreaking, as Gladys and Vernon welcomed Elvis Aron Presley into the world and also burdened with the task to bury his twin brother, Jesse Garon Presley.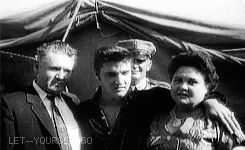 Though filled with sadness, this kept Elvis and his mother Gladys close up until her untimely death. Elvis experienced many trials and struggles throughout his life and managed to overcome so many obstacles to become the greatest entertainer of all time.
Celebrating the King's Birthday
As fans celebrate the birth of Elvis Presley on this day, many are overcome with emotions thinking about how one man could have such an impact on their lives. Many fans have their own traditions when it comes to celebrating Elvis's birthday. For me, my tradition began with the help of Turner Classic Movies and their all-day Elvis movie marathon.
My non-Elvis fan parents were kind enough to leave the spot from where our Christmas tree stood empty so I could bring out my cardboard cut-out of Elvis and leave him in the living room all day. They even let me hang a poster on our front door, though they were a little more than embarrassed I'm sure. Accompanied by my Elvis blanket and throw pillows, I was ready to begin celebrating.
Celebration Traditions
As I mentioned, my parents are not huge Elvis fans, but let me embrace all my crazy on this day each year! (My mother even baked a guitar shaped cake just for the occasion and cooked Elvis inspired dishes to keep with the theming – think "Love Me Tender" Chicken Tenders). This was an all-day event and I somehow always managed to be sick on this day to miss school. (Actually sick though, I never actually faked it… at least not those particular days!)
The tradition stood in place until I moved to Orlando, FL on my own and had to create a new tradition for myself. Every year, TCM ended the marathon with a viewing of "Elvis: That's the Way It Is". I would turn off all the lights and turn on party lights left over from my karaoke machine obsessed days.
The Elvis Birthday Cruise!
Though the movie marathon continues with special viewings of Elvis concerts, new traditions are in place and provides some of the most wonderful entertainment around – the Elvis Birthday Cruise! Last year, 2017, was the inaugural cruise.
Since my husband loves cruising and I love Elvis, this is the perfect celebration for the both of us to enjoy! Soon, we will be setting sail with some of the greatest Tribute Artists around! (The cruise is January 14th-21st. Future posts will showcase this exciting event. For more information on the cruise visit: Elvis Birthday Cruise)
Why the celebration?
So many people have a hard time understanding my love and passion for Elvis, but when I find those people who not only understand it, but feel like I do, it creates a friendship unlike any other! So, why am I celebrating the 83rd birthday of a man a never met? The real question is, why not?
Elvis changed the course of music and its history entirely. He assisted in the development of a new sound and opened doors for so many artists. His life and legacy continues to inspire so many people. Elvis lived
the American Dream and made anything seem possible. Not to mention the incredible impact he has had on my life. After becoming an Elvis fan at the age of 5, it only makes sense to celebrate his birthday!
Though I am working on Elvis's birthday this year, I still plan on celebrating it January 8th. Even though I will be cruising for a week celebrating. Chuy's, a Mexican chain restaurant, hosts a birthday party each year for the King. Themed food, Elvis music playing, and even an event t-shirt (this year the shirt says "Hunka Hunka Burning Grub" – I should mention my maiden name is Grubbs so I am a little obsessed with this!).
After work, I will be heading to Chuy's with my husband and celebrating with some of my favorite food around! Returning home afterward to watch a few Elvis concerts. (Find a Chuy's near you and celebrate: Chuy's Elvis Birthday Bash Locations)
What's your tradition?
Fans have their own traditions, and though mine seem to constantly change these days, the celebration continues no matter what I may be doing that day. Elvis's birthday is an excuse to wear an Elvis t-shirt, eat Elvis inspired food, drink Elvis's favorite drinks, watch Elvis movies and concerts, and listen to his music all day long. Not that I ever need an excuse, but it is nice to have one!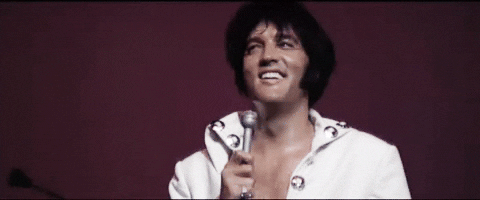 Are you an Elvis fan and celebrate his birthday every year? Leave comments below for what you do to celebrate the King!
For more, visit Moody Blue Blog's Facebook page: Moody Blue Facebook Page
To subscribe to our YouTube channel for Elvis and ETA videos: YouTube @ Little Sister
Until we meet again,
TCB and TCE,